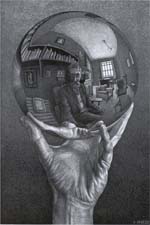 Let me direct your attention, especially all you feed-readers out there, to the little green widget in my sidebar that I have labeled "Big Ideas". This is, in my humble opinion, a feed of some of the most mind-blowing thoughts on infrastructure and analysis on the theatre web. It is culled from a hundred or so blogs that I read regularly, and "Big Idea" status is only conferred on most enriching content out there. And you can even subscribe and save yourself all that work if you so choose. So enjoy.
That said, two special mentions today for folks I don't normally link to:
Scrappy "Jack" John Clancy reposts his essay on the rehearsal process, which reads as fresh as a lime soda. Though, as a designer, I have to take issue with the idea that it is "Best to forget about the play entirely during technical rehearsals and leave the poor actors alone." But of course, he's mainly talking about managing actor energy, not a director's energy. Good stuff.
And if you haven't read Dark Knight Dramaturgy yet, (the amazing Chicago expat Dan Rubin, who is now in the literary department at ACT), today's the day to start. Dan's posts are nothing short of illuminated in general, but he begins a series today on effective strategies and resources for playwrights to get their works included in some of the most high-profile festivals in the country. Knowing Dan's approach to literary management (Dan was both dramaturg for New Leaf's Girl in the Goldfish Bowl and assisted greatly during the Goodman's Horton Foote Festival), I can say with trust: he's your man on the inside.
This post in particular is a must-read for all you underproduced playwrights out there.
Buy Me a Coffee?