I don't have a mug big enough.
It has just been awe-tastic to see the reactions coming from the audiences and the theatrosphere in particular about the three shows I've been working on for the past two weeks – Wooster Group's The Emperor Jones, Rivendell's These Shining Lives, and of course, New Leaf's production of Touch, all three of which opened to oversold performances this weekend (which of course was helped by the unusually limited seating in all three venues).
All three load-ins came abruptly following that wonderful and restful vacation to Hawaii I mentioned where I reconnected with family, especially my brother Zack, who I haven't really seen since my wedding. The mix of long plane flights, time change, immersion in family, rest and then sudden lack of sleep and being witness to some earth shattering moments of theater (as well as several pieces of scary and sad health news from too many friends) that has been has kind of left me in a kind of lucid unbloggable dream state.
So now that the first real all-month theater bender of the year is in a lull, it's time to get back on the blogging horse for what's sure to be an exciting year. So, in no particular order, here are some updates in brief:
– I'm getting over as many hangups as I can this year. I feel like I've already got two down: working with the Wooster Group this week has helped me work through my irrational sense of competition with the NYC theater scene (I'm sure more on that later), and thanks to an internet innovation FROM New Leaf TO Me (that's a new direction I'm happy to get used to!) I can now be found on Twitter. I've been reeeeeally hesitant to explore another web service that is that addictive (I have some co-dependancy problems in my relationship with my computer). But I was convinced, thanks especially to the examples of @travisbedard and what seems like the entire theatrical community of Vancouver, BC, to try to use Twitter as a lightweight fuel to throw on the fire of fast and furious community building. Tweets are now in the sidebar, and I've already got some dreams in the oven about how a Twitter Mob of theater lovers in Chicago might be used to amplify that hard-to-find word of mouth early in a show's run.
– New Leaf has had a freaking killer week. The goal of any low-budget company that desires growth and a successful mission is to be good enough that your audience tells you why they like your work rather than you having to tell the audience why they should like you. Check out what everyone else is saying over at New Leaf, notably Kris Vire's Time Out feature on the company itself, and a Don Hall reaction that I will treasure forever. With this weekend's reviews and audience input, and a run that chugs along through Valentine's Day (can you imagine that date, Don?), we are armed with the feedback we need to go to some heavy hitters and get them to help keep our little theater chugging for years to come. The good news is: it won't take much.
– Yeah, that was playwright Toni Press-Coffman commenting on the promo video for Touch in the comments of the last post.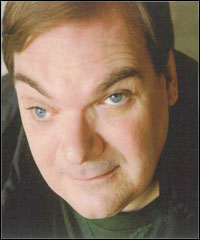 – All that good news aside, my friends are sick, some more than others. I don't feel right talking about their specific stories of struggle and hospital boredom in this venue, but theater folk are particularly vulnerable to the costs of health care and there's one in particular that could use your help. Will Schutz, a brilliant but uninsured actor, side project company member and long-time member of the immortal Defiant Theatre, is having a benefit thrown in his honor – organized by playwright and friend Philip Dawkins – as he fights an illness at St. Francis Hospital. I leave you with Philip's words:
Our friend Will is currently fighting an illness and, per usual, his hospital bills are pilling up way, way, way beyond his means. Chicago bar HYDRATE has very kindly donated their space to the friends of Will (and friends of friends, and strangers!) on Friday, January 23rd between 9 PM and 11 PM in order that we might come together to support our friend and offer up what we can to assist him financially. It's PAY WHAT YOU CAN, with a suggested donation of $20, though any amount will get you an open bar (well drinks, domestic beer, wine, juice and soda), appetizers and some pretty terrific live entertainment, not to mention new friends. Every penny goes to Will.

If you're not able to help out financially, no one understands that better than theatre folks and their friends. But we hope you'll at least consider coming out to show your emotional support in person. And whether you're able to make it or not, please keep him in your minds and hearts each and every day. He has requested ALL of your prayers and thoughts and well-wishes. God knows, Will is worth every penny you're able to give, and every ounce of your energy and efforts. And if you don't know him personally, trust us.

***If you want to donate but can't come on the 23rd, shoot an e-mail to philipdawkins@gmail.com and we'll send you information, as soon as we have it, on a forthcoming online payment option.***
Hydrate is at 3458 N Halsted St, directions can be found here. Pass it on.
Buy Me a Coffee?