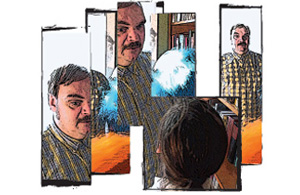 A reminder that tonight is the benefit for uninsured actor and off-Loop theater workhorse Will Schutz, who is facing some daunting hospital bills.
Once again, the details from benefit organizer Philip Dawkins:
Our friend Will is currently fighting an illness and, per usual, his hospital bills are pilling up way, way, way beyond his means. Chicago bar HYDRATE (3458 N Halsted St) has very kindly donated their space to the friends of Will (and friends of friends, and strangers!) on Friday, January 23rd between 9 PM and 11 PM in order that we might come together to support our friend and offer up what we can to assist him financially. It's PAY WHAT YOU CAN, with a suggested donation of $20, though any amount will get you an open bar (well drinks, domestic beer, wine, juice and soda), appetizers and some pretty terrific live entertainment, not to mention new friends. Every penny goes to Will.

If you're not able to help out financially, no one understands that better than theatre folks and their friends. But we hope you'll at least consider coming out to show your emotional support in person. And whether you're able to make it or not, please keep him in your minds and hearts each and every day. He has requested ALL of your prayers and thoughts and well-wishes. God knows, Will is worth every penny you're able to give, and every ounce of your energy and efforts. And if you don't know him personally, trust us.

***If you want to donate but can't come on the 23rd, you can at willschutzpancan.chipin.com ***
We come from all walks of life, and those of us that stick around do so despite greater wealth in other locales, because ultimately, Chicago Theater is a family. And you take care of family.